Please consider lending a hand in the parish nursery to allow families with young children to participate in Mass and other parish events in a more hands-on way.
Click the button below to sign up for a specific time or event.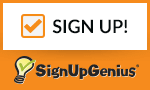 Note: All nursery servers over 18 years of age are required to complete the Safe and Sacred training before serving. Click here to access the training online today!